Program Description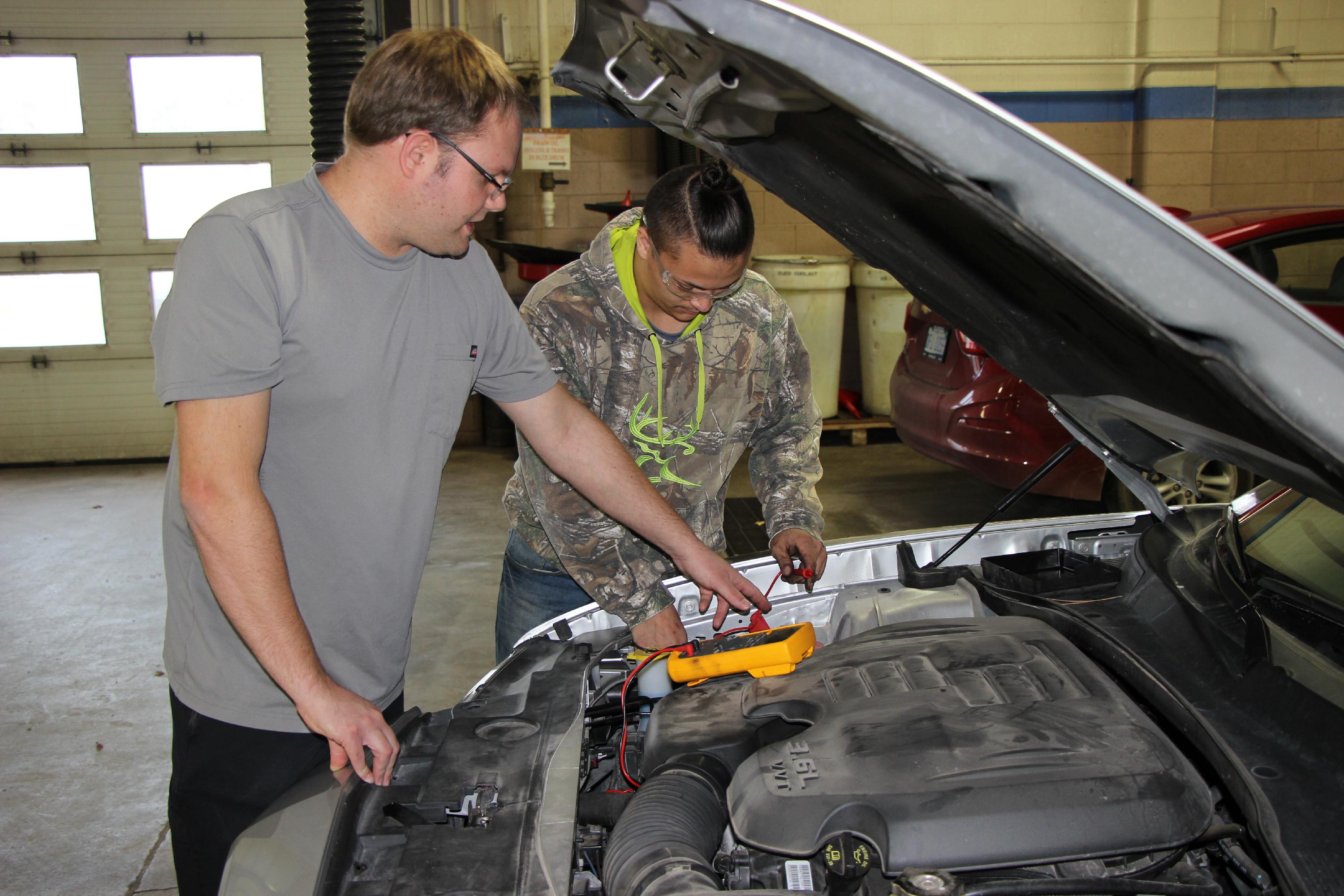 ACC offers three Auto Service & Repair program options:
The Automotive Service & Repair program is made up of three levels of well-rounded coursework and hands-on training in the automotive service field. The first level is a one-year Vocational Certificate that prepares you for entry-level work in five areas:
Engine Performance
Brakes
Electrical Systems
Suspension, Steering, and Alignment
Climate Control
Once you've earned your Vocational Certificate, you can move on to the second level of the program and complete your Master Certificate courses relating to engines, transmissions, and drive train. The third level of the program, an Associate in Applied Science degree, can be earned by completing additional courses in English, math, and political science.
Students are required to provide their own safety equipment, work clothes, and basic hand tool set. The total cost for this is estimated to be between $1,000 and $2,500, however special student discounts are available to help offset costs.
Preparation
Before starting, your academic background, assessment scores, or testing results are reviewed to determine the right courses for you to take. Review classes are also available to prepare you to meet the academic requirements for your program of study.
Certification
Michigan requires mechanic certification. State of Michigan Mechanic Certification may be obtained any time by writing tests offered by the state. ACC's program utilizes ASE student certification to prepare and inform students. After 2 years in the industry (participation in ACC's program counts towards the completion of this time) ASE certification may be obtained through examination, which is facilitated by ACC being a site for ASE's computer-based testing.
Program Facilities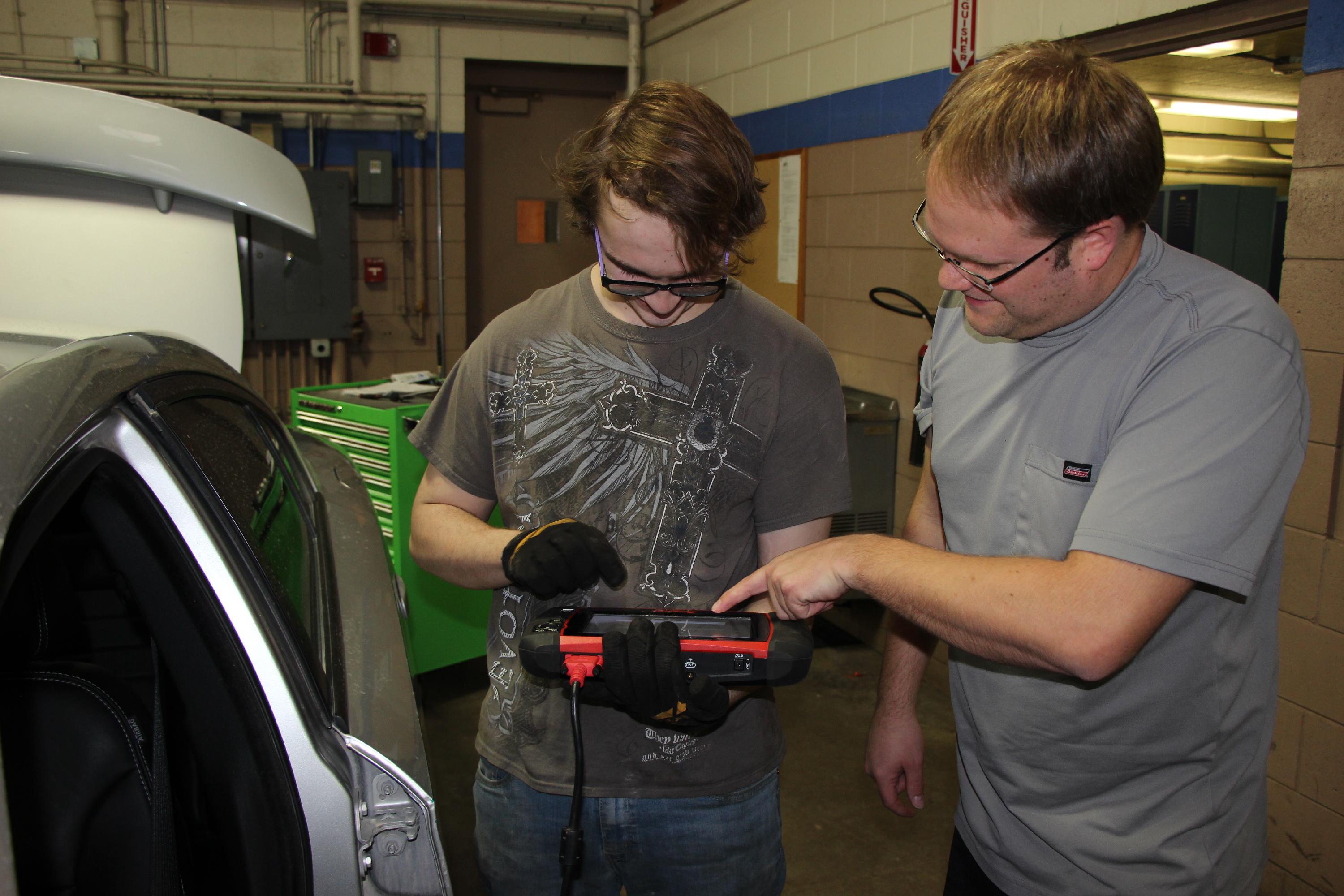 ACC Automotive Service & Repair students get hands-on training in a setting that resembles an actual automotive service facility. Students learn how to analyze engines and diagnose systems using equipment that meets current industry standards.
Special Opportunities
Ferris State University offers an Automotive Management program that is articulated with ACC's Automotive Service & Repair program, which can ultimately lead to the attainment of a Bachelor's degree. Students who complete this degree are finding very interested employers offering good-paying jobs in numbers that FSU can't satisfy with current graduates.
Career Options
With a Certificate in Automotive Service & Repair from ACC, your job opportunities are many and diverse. Jobs are available at new car dealerships, independent repair facilities, or specialty shops. Skilled technicians are also needed by businesses and industries to repair and maintain industrial or fleet vehicles.
The average workweek for Automotive Service and Repair Technicians is 40-48 hours, with frequent overtime during busy periods. Employment is expected to increase about as fast as the average for all occupations through the year 2031. Opportunities should be best for persons with formal training through post-secondary automotive training programs. Median hourly earnings of Automotive and Service Repair Technicians, including commission, were $22.54 in 2023*. However, your average hourly wage depends on the size, type, and location of your employer, as well as your skill and experience level.
You can find out more about job opportunities in the Northeast Michigan area by consulting the Michigan Works! website at www.michiganworks.org.

Contact the Auto Service ProgramDustin Ruehle
Instructor
BTC 119
ruehled@alpenacc.edu
989.358.7241
* Bureau of Labor Statistics, U.S. Department of Labor, Occupational Outlook Handbook, on the Internet at http://www.bls.gov/ooh (visited April 13, 2023).